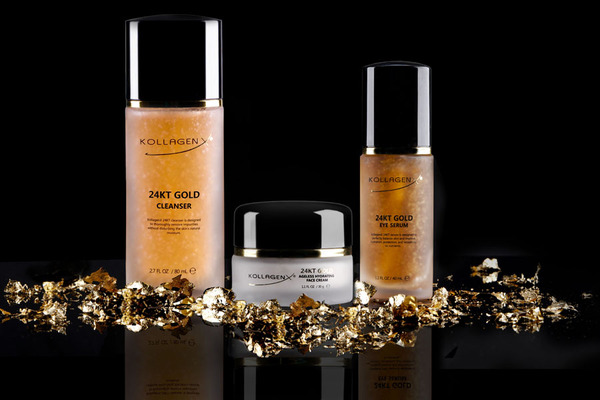 KollagenX ® is a California based cosmetic company that's main focus is Nano Gold Technology, also known as NGT®. KollagenX ® was formed by Rondell Fletcher, George Huerta and Andrew Ancona in early 2008.

A lengthy search for a smart alternative to costly and painful cosmetic surgery turned up with no reliable options. Realizing there was a desperate need for a safe, cost effective solution to cosmetic surgery, our colleague and ourselves decided to develop state-of-the-art techniques for providing Nano Gold Technologies (NGT ® ) to consumers. exclusively catered to the professional sector of salons, spas and beauty professionals to get a real feel for the needs of their clients. We immediately began to get positive feedback from the results of our masks and we knew exactly where we wanted to go from there.
Actual Customer's Review
I stumbled upon this line of cosmetics in a Queens spa called Euphora Salon & Medi Spa. I was actually getting my hair done there but I saw their display of Kollagenx products and asked if they had a sample. One of the associates offered to try it on me. So after the procedure was done, I was pretty freaked out I must say. It made my skin feel soo incredibly firm and I never thought that was possible. I have skin issues ranging from oilyness to acne to acne scars. The texture of my skin is far from perfect. And although it didn't get rid of all those problems it felt like it lifted my skin. Forget about botox. This is safer and cheaper anyway. It also kinda reduced my under eye puffiness. I came in not too long after waking up and I was in serious need of some under eye lifting. It did just that. After I researched their products it turned out that only 6 salons in NY carry their line, which is mind boggling for such a great product. I guess people just don't know about it yet. But thanks to the girl in Euphora for letting me try it!